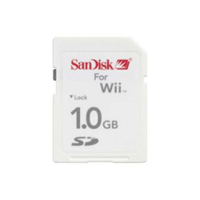 If you own a Wii, you will eventually need an external memory card. The memory card is used to save your progress in games, photos, music, videos and games you download from the Virtual Console. The 1GB Secure Digital (SD) card is often used in the Wii. It has a built in slot that allows you to insert the card and save games.
Typically the Nintendo Wii has a built in internal 512MB memory. This will get full very quickly and it is useful to have a card that is portable.
What Type of 1GB Memory Card Will Work
As stated above the Nintendo Wii uses Secure Digital (SD) memory cards. If you are looking for 1GB SD cards to purchase, then it should not matter what brand you buy as it will work in the console. The branded 1GB Wii memory cards are just that, branded. They are more expensive and really offer nothing different than other cards on the market.
You can also use other types of memory cards in your Wii, as long as you have a SD adapter. This means you can use a 1GB MicroSD or 1GB MiniSD as long as you have SD adapter. All you would need to do is insert it in the slot and then place it inside the Wii.
Price of Wii 1GB Memory Card
The price of 1 GB Nintendo Wii memory card will vary depending on where you purchase it. The Wii branded cards are much more expensive and compared to cheaper cards, the only thing you would be getting is the "Nintendo" sticker. With that said you can expect to pay between $15 – $40 for a SD card that will work in the console.