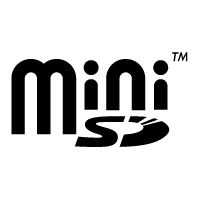 miniSD is one of the popular small form factor flash memory formats that is available. Created by SanDisk, Toshiba and Matsushita in 2003, it was created specifically for use in mobile phones. At the time of its release it was the smallest sized SD card. This however has been replaced by MicroSD cards. Later on in 2003 it was placed in the Secure Digital family as it was the second form factor memory card according to the SD Card Association.
MiniSD was designed specifically to be used in small devices such as mobile phones and cameras. All miniSD cards can be used with a SD Memory Card adaptor, which makes them compatible with SD Memory Card slots.
Typically the MiniSD cards capacity ranges from 4 MB up to 2 GB. Recently there has been the introduction of the microSDHC  (High Capacity) format, that saw an increase from 4 GB up to 32 GB.
Mini SD cards are very tiny and they are as small as quarter. The dimensions for this card are
small and they are around the size of a stamp. Its dimensions are 20 mm (W) × 21.5 mm (H) × 1.4 mm (D) and it weighs 1 gram.
Several different manufacturers make MiniSD cards and these can be found under many different brand names.
Types of miniSD Cards
Right now there is the standard mini Secure Digital Cards (miniSD) and the ones that are High Capacity (miniSDHC). The standard miniSD cards are available in sizes from 4 MB upwards of 2 GB. The miniSDHC cards go from 4 GB – 32 GB.
There has been some confusion when it comes to the use of these new miniSDHC cards. The new format makes these cards unreadable in older devices, unless they have a firmware upgrade. Many people end up purchasing these cards and find out that they cannot be used in their older electronic devices.
Specifications of miniSD Card
Known Names
Mini SD is also known as miniSD. People usually put a space between the two words instead of combining them.
Types of Mini SD
Since Mini SD is deviation of SD cards, it is the 16 MB, 32 MB, 64 MB, 128 MB, 256 MB.512 MB and 1GB
Physical Dimensions
Weight
Voltage
Transfer Speeds
Read Up to 10 MB/sec – 66 X
Write Up to 10 MB/sec – 66 X
Write Protect Switch
No
Copyright Protection
Yes