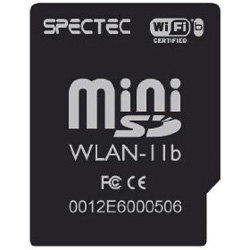 I am always searching for cool and different devices, especially if they have anything to do with memory cards. I came across a WIFI SD Card that allowed you to upload pictures to your home network and photo sharing sites. I decided to dig a little more and came across the WIFI MiniSD card.
My first thought focused on the idea that it served as a wireless memory card and that I can use it like how I used the SD format. I was wrong, but still somewhat surprised.
It seems that this is not a memory card, but a WIFI card that is built to fit in the Mini SD slot of a device such as a phone or PDA. I had no clue these existed and based off the reviews of the individuals, it seems like it works extremely well.
Wireless MiniSD Description
 
The product description states that the Spectec Mini SDIO WIFI Card 802.11b is designed to work in phones that have a MiniSD slot and Pocket PC's or PDA's that have a SDIO slot. The dimensions of the the miniSD WLAN card is (L 28mm x W 20mm x 1.4mm thickness).
It is Wireless B and its frequency is 2.4GHz. Its security is WPA, WEP, TKIP and AES. Works on operating systems running WM2003SE, WM5, Windows CE 4.x/5.0 and higher.
My View on the Mini SD WIFI Card
 
This is a great product and I am sure if you have a older phone or PDA that does not have WIFI, then this is a good option. All you need to do is stick it in the miniSD slot and your good to go. I am assuming that this will work in your laptop or other devices if you have an SD adapter.
The one complaint someone had was that the card somewhat stuck out of the slot. I am sure this is dependent on the device and it would really be a minor problem.
All in all I think the Wireless MiniSD card is a winner and a must have for people who are looking for a WIFI option for their Mini SD devices.