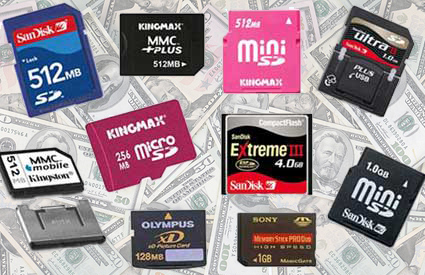 #1 Type of Memory That You Need
This is the most important thing you need to know before you go ahead and purchase your memory card. There are many different memory card formats and not all cards work in all devices. The most common mistake that people make is purchasing the wrong card for their device. For that reason and to save yourself the headache of the mistake you made, it is good to Research, Research, Research!!!! If you are unsure about the memory card that your device uses. Take the time to read the manual and look at the correct name of the memory card that you need. A CompactFlash card will not work in a MicroSD slot.
#2 Find Out How Much Memory You Need
This is a very common mistake that people make when purchasing memory cards. They either buy too little memory or too much (too much is never a bad thing). You need to be aware of the different sized cards that are available and how much data each one can hold. You do not want to purchase a 16MB SD card to be used in Flash Memory Camcorder. That would be too small and it would be wasted money. The same can be said about purchasing the biggest and baddest card available. It could be a waste of money to purchase a 32GB card for your point and shoot camera if you will only be taking a couple of pictures a year.
#3 Device
Before purchasing your memory card you need to be aware of the device that will be using it. If you have a cell phone you will not be using a SD card in it. This can become quite confusing to some people as they are often misinformed. The best way to understand this is by checking online at the devices website to find out for certain which memory card your particular product will use. You will then be sure that you are not buying the wrong memory card.
#4 Compatibility
Before shelling out your hard earned money on a brand-new memory card, check to see if what card your device will use. Often times a card you already own can be used in another device once there is an adapter available. So if you have a microSD card and want to use it in your camera, all you would need to do is get a SD adapter. This goes true for many of the other memory cards available.
#5 Shop Around
When looking to purchase cards, it is a good idea to shop around. There are many different deals and specials that are available in both online retailers and regular brick and mortar stores. Don't be tempted by the first price that you see, as there is a good chance that you can get that particular card for almost 50% off if you shop around.
#6 The Brand of Memory Card
Even though this is not extremely important, when shopping for a memory card be aware of the different brands. Not all memory cards are made equal and some generic brands could be defective and not of a higher quality as the more popular brand names.  You should also understand that the brand name cards will be more expensive and even though the cost more, they may not always be the best.  I have never had any major problems with off brand cards, but just keep it in mind when purchasing yours.
#7 The Right Card Reader
Before you purchase a memory card you need to be sure that you have a way of reading the card. You should look to see if your computer has a memory card slot for the card you will be purchasing. If not you can always buy a memory card reader. It should be noted that when purchasing a memory card reader, you should  make sure that it is able to read your particular card. E.g. if you bought a 16 GB MicroSDHC card, you could not use a microSD card reader to read it. This is the same for the other cards and readers available. Compatibility is key.
#8 The Speed of The Memory Card
When purchasing memory cards, you should be aware of the speeds. If you have a device that requires a high speed card, then make sure you get the recommended one and not the slower option. The speed of the card determines how fast the data is written to the card. If you have a device that needs fast cards such as Flash Memory Camcorders or High Megapixel Cameras, then make sure your card is speedy. There is nothing more annoying that having your camera stall as it writes to a slow card.
#9 Counterfeits
Even though it is rare, be careful of counterfeit memory cards. These are often found on EBAY, as unscrupulous sellers will try to sell you higher capacity cards that truly are nowhere near what was advertised. They will sell low-capacity cards that have been formatted to make it seem like they are of the higher capacity. They will also use other types of memory that is not made for a lot of rewriting.
#10 Organizer/Protection
If you own a great deal of memory cards and are planning to add one more to your every expanding collection, then it is a good idea to invest in a memory card organizer. This is a good way to have your cards in one central place. Memory card cases are a good choice and they are also able to provide your cards with the protection they need. Protection of your cards is necessary, as nothing sucks worse than having your card become unreadable due to damage that could have been prevented.