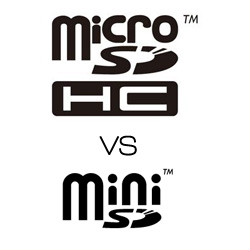 There is always confusion when it comes to the different memory cards formats. Often people have no clue which card will work in their device and the differences between them. There are around 8 main memory cards formats and all of these cards have sub-groups. This just adds to the overall confusion.
Two formats that people usually get confused with are MiniSD cards and MicroSD cards. They may sound the same, but these two cards are fundamentally different from each other. We will explain the differences as it relates to MiniSD vs MicroSD cards
| | | |
| --- | --- | --- |
|   | MiniSD | MicroSD |
| Name: | Mini-Secure Digital | Micro-Secure Digital |
| Size: | 20×21.5×1.4 mm | 11x15x1mm |
| Weight: | 1g | 0.5g |
| File System: | FAT16 | FAT16 |
| Capacity | 16MB-8GB | 16MB-2GB (MicroSDHC:4GB-32GB |
As you can see from the table above, there are big differences between the two memory cards MicroSD and MiniSD. The first difference that can be seen between the two is that MiniSD cards are much bigger than MicroSD. It is almost double the size, but still relatively small. They weight different and their uses are different.
MicroSD cards are widely used in devices such as cellphones and cameras. There are quite a few devices that use MiniSD.
If you are having problems understanding which memory card format your device uses, please consult the manual. It will be able to tell you if it will use MicroSD or MiniSD memory cards.