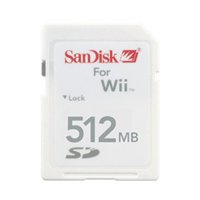 If you play your Nintendo Wii a lot, you will eventually need an expansion memory card. The memory card that is used in the Wii is often used to save your progress in a game and also to save photos, music, videos and various games that you download from the virtual console. If you use the 512MB card then you will be able to hold tons of information and not worry about overloading the consoles internal memory.
The Nintendo Wii has a built in internal memory, however this gets fully very quickly, especially if you play a lot of games and save many songs, photos or videos on it.
What Type of 512MB Memory Card Will Work
The Nintendo Wii uses Secure Digital (SD) memory cards as its external memory source. Any type of brand will work when it comes to 512MB memory, no one card offers anything different. Sandisk has created specially branded 512MB Wii memory cards, but they are just branded for the Wii and are essentially the same as the ones you can purchase for cheaper.
If you have certain types of memory cards such as a 512MB MicroSD or 512MB MiniSD then you can use them in your Wii, once you have the SD adapter. This adapter allows for different memory cards to fit into the SD slots, once it is in the right adapter. So if you have any of these cards lying around, then they possibly could be used in your Wii
Price of Wii 512MB Memory Card
If you are looking to purchase a 512MB Wii SD memory card, then the price will vary. This is determined by the brand of card that you buy, or which retailer you choose to buy the card from. The average price of the 512MB Wii memory card is around $10-$40. If you are looking for a specific deal on memory cards, then you can check out the purchase section, which has some of the best prices as it relates to the Nintendo Wii Memory Cards.