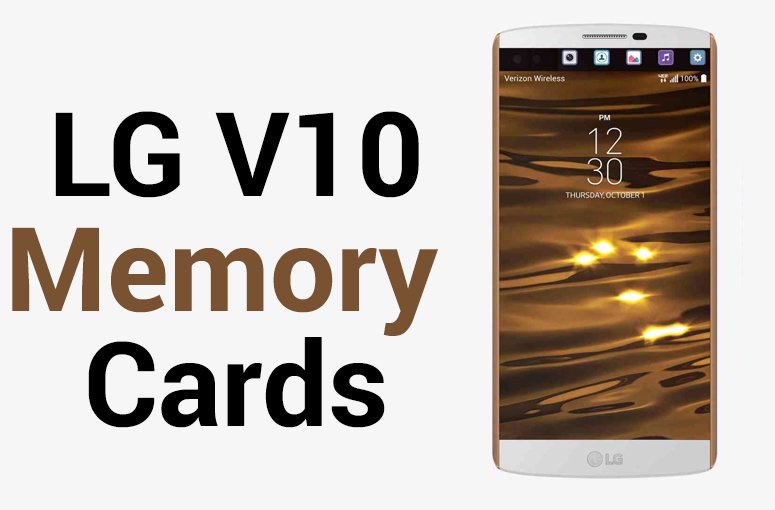 Searching for the perfect LG V10 memory card? Well I am glad you landed on this page, as below I highlight the best memory card options that are available for the phone, as well as deliver some really useful information that relates to the cards used in the phone and more.
The Best LG V10 Memory Cards
I know you probably pulled out a couple of hairs and screamed looking at the different memory card options available for your phone. With hundreds of choices available, how do you know which one to get? Well, I have taken out the guess work and below list the 3 best memory cards for your LG V10. The basis for ranking these cards are
The 128GB card is massive and you definitely would not have to worry about storage space now and in the future. You should be able to use this card well into the future with no problems and right now, you would never have to worry about storage space on the V10. The card is massive and this is definitely for those who will be recording videos all the time, as well as taking pictures.
If you really want to maximize your phone, then consider the 200GB MicroSD card. These cards deliver an insane amount of storage space and you really don't need to spend an arm and a leg to get it. SanDisk makes solid cards, so you are also getting excellent performance at a really low price.
I like the 64GB card for the balance in terms of storage space and price. You get a ton load of storage space, so you can take pictures for months, without worrying about filling up the card. The performance is also top-notch and the price is really good (especially for the amount of storage space). You can't lose with this card, trust me 🙂
While the 256GB card is super expensive, I place it on the list as some of you may feel the need to maximize the phone and this is the biggest card the V10 can take.
Confused About the Types of Cards the V10 Uses?
This is the section where I clear up some misconceptions and confusion some people have with regards to the different memory cards that can be used with the LG V10. I am pretty sure you have seen that the V10 can use SD cards, as well as formats such as MicroSD, Micro SDHC and Micro SDXC. So what are the differences between the cards and what actually works in the phone.
The V10 can only use microSD, micro SDHC and microSDXC cards. The is not able to take SD cards, as it is a totally different format. Secure Digital cards are way bigger than the micro cards, they are not compatible with phones and they are generally used with cameras or other devices.
The Differences in the Micro cards that the V10 uses are:
Micro SD– This memory card format can hold up to 4GB of music, pictures, videos and apps.
Micro SDHC– This memory card that can hold up to 32GB of music, pictures, videos and apps.
Micro SDXC– This card can hold up to 2TB of music, pictures, videos and apps.
The cards listed above are all physically the same, what sets them apart from each other is their storage capacity. They will all work perfectly with the V10, just that the older cards (Micro SD) will be slow (see section below) and that could lead to some performance issues.
LG V10 Memory Card Speeds
Are you having a hard time understanding memory card speeds? Have no clue what's the difference between a Class 10 and Class 4 card? Well below I will clear up some of the misconceptions you might have.
The first thing you need to know is that all memory cards from Secure Digitals (SD), MicroSD and more all are available in different speeds. What you need to know about speed ratings is that it determines how quickly data can be written to the card, as well as how fast the device can read it.
There are different speeds available, which are:
Class 2 – Minimum of 2 MB/s performance. (Slowest)
Class 4 – Minimum of 4 MB/s performance. (Slow)
Class 6 – Minimum of 6 MB/s performance.  (OK)
Class 10 – Minimum of 10 MB/s performance. (Average)
UHS-I UI – Minimum of 10 MB/s performance. (Fast)
UHS-I U3 – Minimum of 30 MB/s performance. (Really Fast)
Your LG V10 can use all the cards listed above, but the UHS cards might be downgraded to match the Class 10.
When looking for a card, stick with a Class 6 or higher. The older and slower Class 2 & 4 can work perfectly in the phone, however you might experience some performance issues. If you are filming HD video, the cards are too slow and the video will begin to fragment or stop recording all together. You will also notice how slow the cards are when you are transferring data or taking pictures and that is the time you would wish that you had a faster memory card.
If you are interested in finding out more about memory card speed, then you should check out the SD Card Association as they have a ton of useful information.
What Size SD Card Do I Need for My LG V10?
At the top of the post, I highlighted a couple of must-have cards for the phone, but some of you might be wondering if you can get away with buying a smaller card or do you need something much bigger? What size LG V10 SD card should you get? While I recommend the 32, 64 & 128GB options above, the options you choose really depends on how you plan on using the card. Remember the V10 will have 32/64GB of internal space, so you could actually get away with using a 16 or 8GB card if you choose to, it really depends on how much/little you plan on using the extra storage space on your phone.
What I like about the smaller sized cards is that they are dirt cheap and perfect for those who just want a little bit of extra space. However, the higher capacity cards are still cheap as well and you can keep using them for years, so that is why I like the bigger cards.
How Much Data Can be Stored on a LG V10 Memory Card?
While the numbers below can vary (they are estimated), I am pretty sure that a lot of you would want to know how much data the different sized memory cards can hold.
The table below is really just to give you guys an idea as to how much music, movies, video and pictures can hold on the LG V10 SD card. The information is based on ESTIMATES and you should know that the card can hold a lot more or less, it is dependent on many different factors.
| | | | | | | |
| --- | --- | --- | --- | --- | --- | --- |
| | MP3's | Movies | 720P Video |   |   | Images |
| 4GB | 800 | 5 | 1 Hour | | | 2000 |
| 8GB | 1600 | 10 | 2 Hours | | | 4000 |
| 16GB | 3200 | 20 | 4 Hours | | | 8000 |
| 32GB | 6400 | 40 | 8 Hours | | | 22888 |