The Best Memory Cards for the Samsung Galaxy Tab
The Samsung Galaxy Tablet is one of the better tablets out there one the market. It's a pretty amazing device and you can use it do just about anything. Most people are looking to increase their memory capacity, even though the Galaxy Tab has a decent amount built in. For those of you who are looking to get cards or are somewhat confused as to what card to get, then you need to check this article out.
If you are just looking to get your hands on cheap memory cards for the device, then click here.
Samsung Galaxy Tab Memory Card Types
The Samsung Galaxy Tab will be able to take a variety of memory card formats. I will look at the different types that can be used in this device.
Micro SD – This memory card format can hold up to 4GB of images, music and video.
Micro SDHC – This memory card that can hold up to 32GB of images, music and video.
There are quite a few people out there who get confused when it comes to differentiating between MicroSD and MicroSDHC formats. If there is one thing you should know, MicroSD and MicroSDHC cards are essentially the same thing. The only difference is their size capacity.
MicroSD cards can hold up to 4GB worth of music, images, video, and pictures.
MicroSDHC cards can hold up to 32GB worth of music, video, and pictures.
Other Vital Memory Card Information
Another important thing that you should know about memory cards is that they all have a Speed Class Rating. The speed ratings of the cards determine how quickly data can be transferred to the card. The speed classes for SD and SDHC cards are 2, 4, 6 and 10.
Class 2 – Minimum of 2 MB/s performance. (Slowest)
Class 4 – Minimum of 4 MB/s performance. (Average)
Class 6 – Minimum of 6 MB/s performance.  (Above Average)
Class 10 – Minimum of 10 MB/s performance. (Fastest)
If you are interested on getting a Samsung Galaxy Tab Memory Card, my suggestion to you is any Speed Class will work perfectly fine in the tablet. I tend to like the faster cards as the slower cards can be a pain in the neck when it comes to transferring data or accessing it from the device. The slower cards are cheaper, but when you are transferring your music collection, you are going to wish you spent the extra to get a faster card. It is also a good idea to get a faster card, if you are planning on using the memory card in other devices such as cameras, video cameras or cellphones.
Do I Need a Memory Card for My Samsung Galaxy Tab?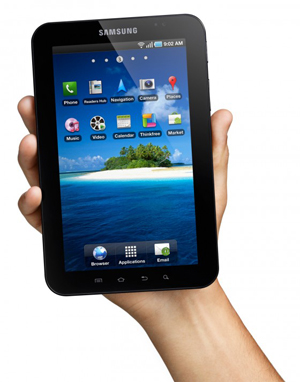 The Samsung Galaxy Tab is available in 16GB and 32GB models. These sizes are pretty decent, but if you want to expand your memory and bring over more movies, music and pictures, then it is a good bet to get a memory card.
What Size Samsung Galaxy Tab MicroSD/SDHC Card Should I Get?
When looking at getting a MicroSD or MicroSDHC card for the Galaxy Tab, the size is really up to you. Even though there are lower cards, it really makes sense to get either a 16GB or 32GB card. There is no need to waste time with smaller card sizes at all.
I would personally go with the 32GB MicroSDHC card, simply because I would want the space on my Galaxy Tab maximized.
How Much Data Can Hold on a Samsung Galaxy Tab Memory Card?
Well with that information out of the way, it is now a good idea to see how much these Samsung Galaxy Tab memory cards can hold.
**For comparison purposes I utilized average file sizes for the different data formats. These memory cards can hold more or less data as the file sizes will vary. This table is just to show you how much each card can hold.
| | | | |
| --- | --- | --- | --- |
| | MP3's | Movies | Images |
| 4GB | 800 | 5 | 2000 |
| 8GB | 1600 | 10 | 4000 |
| 16GB | 3200 | 20 | 8000 |
| 32GB | 6400 | 40 | 16,000 |
Best MicroSDHC Memory Card for the Samsung Galaxy Tab
Below are my best memory card picks for the Samsung Galaxy Tab.
*Compatibility Issues
Some of the card readers on the older computers may not have the ability to read SDHC memory cards. If you are thinking about buying a card, you need to be sure that your computer can read SDHC cards. If your computer card reader is old, then you will have to buy a SDHC card. The good thing is that this device is not expensive and you can usually get it for under $15. If you want to get one now, click here.

Related posts: